Burns Farms Herefords was established in 1952 with the purchase of two heifers in the Duck River Hereford Association sale for a young Phillip Burns's 4-H project. His parents, Randel and Helen Burns, grew up with cattle and always had a love for the Hereford breed. You can find Phillip today working on the farm every weekend alongside his son and cattleman entrepreneur, David Burns, who now manages the farm. David is a 3rd generation farmer that has taken his small family farm and developed it to attract buyers and interest from all over the United States. Now, Burns Farms is the largest Registered Hereford cattle farm in the Southeast and we are dedicated to sustaining a tradition in this small town tucked away in the Sequatchie Valley of East Tennessee.
In 1974 Phillip and his wife Gayanne were married at the Home Place, Phillip's childhood home, in Pikeville. Gayanne's parents thought she was marrying a farmer and had no idea that he was actually a doctor because most of their conversations were about cattle. Phillip had a passion for both cattle and medicine.  He is Chairmen of the Department of Surgery University Tennessee College of Medicine in Chattanooga. He was elected President of the American Hereford Association in 1998. Over the years, Phillip and Gayanne have maintained this farm in hopes of passing on a legacy.
In the early 1980's David began making trips to the farm with his father, and as he grew older an interest developed in showing cattle. David grew up showing cattle and eventually won the coveted Junior National Show with Champion Heifer and Senior Showmanship in 1997. David continued to show while completing his undergraduate degree in Animal Science at Middle Tennessee State University and in 2004 graduated with his Master's degree in Reproductive Physiology from Michigan State. Afterwards he came back home to work on the farm, a long-time dream of his and his father.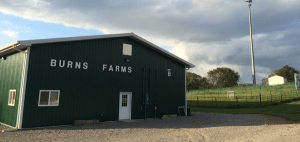 Previously, Burns Farms only sold private treaty. However, in 2009, after David became Farm Manager, he pushed for the construction of the sale barn and brought the farm to another level. They now have two annual Female and Bull sales each year selling over 150 Bulls and 100 females annually. In 2014 David increased the ET program that offers more genetic diversification to the area. He focuses on bringing quality bull selection, and utilizes the latest technology, such as providing genetically enhanced EPDs on all bulls.
Sarah Burns Bernard, David's sister, graduated with her Master's degree in Agricultural Business in 2011 from Kansas State University. Today, she focuses on the business details and increasing our technological efficiency. She also manages the Freezer Beef sales division for the farm. Sarah did take time to show cattle in her early years but mainly focused her energy as a collegiate swimmer at Alabama, where she met her husband, Dr. Matt Bernard. Living just an hour outside of Pikeville, they often travel to the farm with their three children, Nolan, Lily and Caroline.
David and his wife Katie live in Pikeville with their daughter Helen, named after David's grandmother. Together, they share a farming way of life and hope to pass on this tradition, legacy and dream.