Burns Cattle Consulting is a Cattle Management and Marketing Consulting business run by David Burns. David grew up as the third generation cattle farmer with Burns Farms, a registered Hereford and Angus operation in Pikeville, Tennessee. He received his undergraduate degree in Animal Science from Middle Tennessee State University, and went on to get a MS in Animal Science with a focus in Reproductive Physiology from Michigan State University. In his role as manager, Burns Farms grew into the largest registered Hereford operation in the southeast. He is responsible for all management aspects of Burns Farms. Managing duties include but are not limited to employees, marketing, nutrition, budgets, genetics, and herd health. Through this experience David saw a need for consulting services to help other operations become successful. He has helped numerous operations get started, and become thriving registered and commercial operations. The cattle business is a relationship and experience business. This consulting business is set up to accelerate the clients past the challenges of managing and marketing cattle.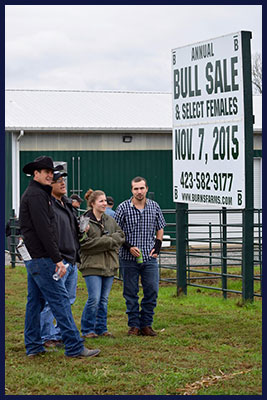 With our customer in mind, Burns Farms is offering consultation services for those who dream or perhaps want to take their cowherd to another level. David Burns, the farm manager, has the education and experience to assist you with a variety of needs. Below is a list of the services we can provide:
Herd Development
Genetic pairings
Registration Growth
Herd Bull or Semen Selection
Assistance with Artificial Insemination
Embryo and Recipient Options
Pasture Management
Show Prospect Selection
Commercial Herd Options
Cost of services will depend on location and request. Please contact David or Katie Burns to schedule initial phone inquiries.
David is also available for judging opportunities and speaking engagements. And we always welcome Agriculture Extension Tours and Judging Teams.
We can help you build a Lasting Legacy or assist you with starting the right Foundation.